Running a fundraiser during a global pandemic is no small task. We'd like to applaud the efforts of three of our Allies in Action for their incredible work in continuing to raise awareness for #NotinMyCity.
Allies Morgan Melnyk, Lyle Peterman and Mallory Welechenko were able to successfully host their Second Annual Not So Silent Nite fundraiser on December 3. Surpassing expectations (and last year's totals!), the event raised $10,492!
Last year's inaugural event started as a way to support local musicians and artists, while drawing attention to the overarching issue of human trafficking in our country. This year, they knew it was important to keep the momentum going, despite the pandemic
Says Morgan Melnyk, "We were noticing the news articles, particularly in Edmonton and Calgary, about people being arrested for child luring and/or exploitation. We are seeing more it, we are talking about it, and we know it happens in our backyard." He continues, "When I got involved with #NotinMyCity through MNP, we wanted to put our support behind a local charity and local artists. And we really wanted to support something that maybe isn't as easy to talk about for people and be able to shine a light on it."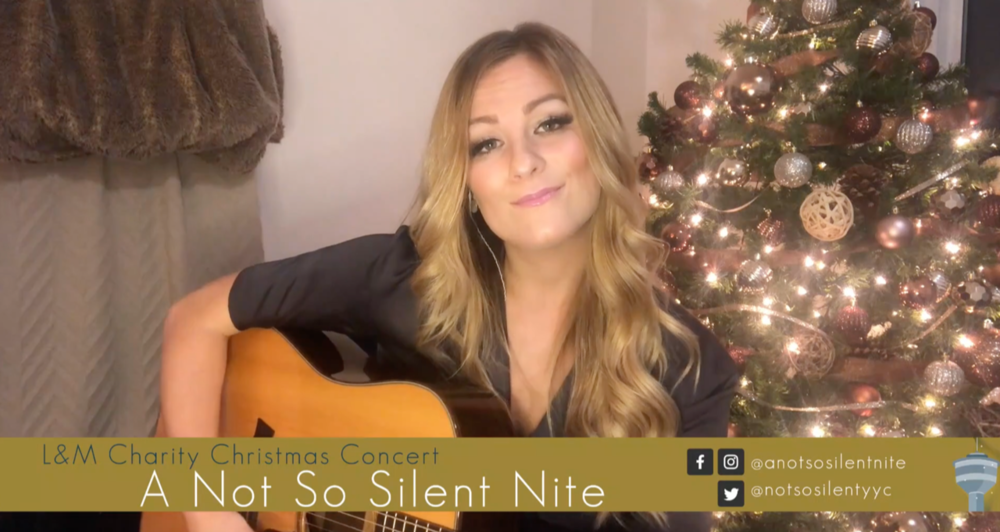 Morgan, Lyle and Mallory had planned an in-person event this year, then quickly pivoted to a virtual event to adhere to the new restrictions in place. Thanks to the team at Trolley 5 Restaurant and Brewery and owner Ernie Tsu, they helped the team to adapt the event by turning their stage into a studio and supporting at-home deliveries of food and beverages.
"People were really willing to take part in a virtual event, there was a big appetite for live music and being part of something," said Peterman. "None of our artists backed out, we just pivoted to make it work and pulled it off in under a week!"
The evening featured virtual performances from both Trolley 5 and from home with Marcus Trummer, Mitch Belot & Justine Rowbotham Alex Hughes, Devin Cooper, Mariya Stokes and Michela Sheedy. #NotinMyCity's Paul Brandt also tuned in with a greeting and a song.
Supporters had the option of purchasing a virtual ticket for $25, or a "Not So Silent Nite At Home Experience" which included a virtual link for the performance, as well as a home-delivered Cheese & Charcuterie platter for two people, a six-pack of Trolley 5 Beer and a bottle of wine.
The organizing team also launched a virtual silent auction, which ran from November 28 to December 3. Says Peterman, "The virtual silent auction was such a pleasant surprise, we had 45 items, and given people could access it from anywhere, and we were able to raise even more money than last year."
Virtual concertgoers tuned in for the 2.5 hour livestream from across Western Canada, and the team estimates that around 250-300 people took part.
Says Peterman, "I think we adapted the event five times with the changes in restrictions, but we're really thrilled with how it all turned out. We can't wait to be back at Trolley 5 next year."
#NotInMyCity is so grateful to Allies like Morgan, Lyle and Mallory. They are already busy planning the 2021 event, which will take place on December 2 – mark your calendar!