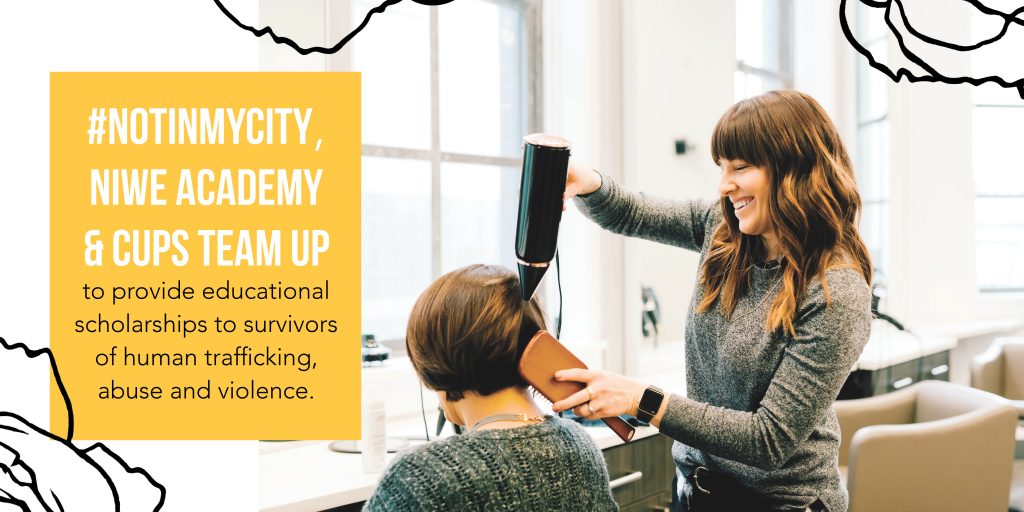 The Shakti Initiative provides a cost-free education to vulnerable individuals, helping them on their journey towards empowerment and self-sufficiency
NIWE Academy,  #NotInMyCity, and CUPS have joined forces to provide cost-free education to individuals who have experienced human trafficking, domestic violence, sexual abuse, forced marriage, victims of torture, residential school survivors and individuals displaced due to civil war or conflict.
As part of The Shakti Initiative, the program will fund up to five fully funded scholarship opportunities per year through NIWE Academy, a cosmetology school located in Calgary.
The Shakti Initiative was created by NIWE President Founder Sangeeta Sharma as an opportunity to give back. She says, "This initiative was developed in honour of my mother, who dreamed of helping women by teaching them how to help themselves. Providing an education in a welcoming and supportive environment helps individuals start a new life and career."
Scholarship applicants will be referred by a partner organization, which will be selected annually by #NotInMyCity. The partner organization will also provide counselling and support to the applicant throughout their application process and academic program.
The partner organization selected for 2021 is CUPS, a social services agency that helps build resilient lives for Calgarians who are facing the challenges of poverty and trauma. Says Executive Director Carlene Donnelly, "Science tells us that experiences and trauma shape our brains, so our programs and resources are created to help Calgarians build resilient lives. The Shakti initiative is a great example of providing a fresh start for individuals who are looking for ways build a better future for themselves and those they love."
The five diploma positions available include Clinical Aesthetics, Esthetics, Advanced Nails, Massage Therapy and Hairdressing. The selected students will be provided with the training and necessary kits and will be supported in their post-education employment.
To bring further awareness about human trafficking, all of NIWE Academy's students and staff will be taking #NotInMyCity's interactive e-learning course, called Mobilizing Communities to Disrupt Sexual Exploitation and Sex Trafficking in Canada. The online course launched in January 2021, is free and available to everyone.